"Srpski oslobodilacki front" (Serbian Liberation Front)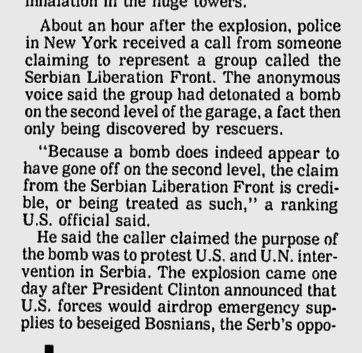 Ramzi Yousef called his pre 911 operation Project Bojinka, Bojinka may or may not be a serbian word for explosion.
He also had catholic religious garb.
He has blue eyes.
A rumor was speculated by the media in 1999 during the NATO bombing of Yugoslavia when Serbia's Slobodan Milošević and Iraq's Saddam Hussein allegedly negotiated a discreet military alliance that would improve their ability to defy the West and withstand Allied bombing attacks, along with low-profile support from Russia, according to reports from London.
The state of Yugoslavia established a large engineering and technology presence in Iraq from when Saddam Hussein entered office in his country. Upon the 2003 Iraq invasion, Western military analysts referred to maps and advice from former engineers of the now-defunct Serbian company Aeroinzenjering, which had built Saddam Hussein's underground bunkers along with many airports in Iraq by the 1980s. Later on, in the 1990s when FR Yugoslavia was isolated by Western sanctions, Belgrade-based Yugoimport designed and built Ba'ath party headquarters in Baghdad along with an additional five underground bunkers for Saddam Hussein; Yugoimport's blueprints of the bunkers in which Hussein and loyalists hid during the United States merited enough importance that they were handed over to the United States when the invasion began.
Curt Weldon
Edit
As of April 2008, Weldon was still facing a criminal investigation by the Justice Department's Public Integrity Section for suspected unlawful ties to two Russian companies and two Serbian brothers with links to alleged war criminal Slobodan Milosevic.
Terrorists
Edit
On September 11, 1976, a group of Croatian nationalists planted a bomb in a coin locker at Grand Central Terminal. The group also hijacked a plane. After stating their political demands, they revealed the location and provided the instructions for disarming the Grand Central Terminal bomb. The disarming operation was not executed properly and the resulting explosion wounded over 30 and killed one NYPD bomb squad specialist.
Bocinja Donja
Edit
In the wake of the failed al-Qaeda millennium bomb plots, US investigators will discover that a number of suspects in the plots have connections to an obscure village in Bosnia named Bocinja Donja. At the end of the Bosnian war in late 1995, Bosnian President Alija Izetbegovic kicked out the Serbians living in this small village 60 miles north of the capital of Sarajevo and gave their houses to about 100 former mujaheddin who fought in Bosnia. Most of them married local women, allowing them to stay despite a treaty requiring all foreign fighters to leave Bosnia. In contrast to the rest of Bosnia, the village is governed by strict Islamic law.